One of the most widely used kinds of stickers is bumper stickers, also referred to as car or vehicle stickers. Most of the time, bumper stickers are applied to automobiles for both personal and commercial use. The simplest and most cost-effective approach to give your "vintage" car a fresh look and feel is using bumper stickers. Bumper stickers are a simple way to create a mini billboard for your business to promote your goods or services. If you own a car, you can easily turn it into a mini-billboard by utilizing bumper stickers that advertise your goods and services. Additionally, it is a fantastic effort to create trust and a brand.
Self-adhesive vinyl stickers are usually intended to be shown on the door, bodyside, hood, or window of your car, truck, van, trailer, or any other vehicle. Vinyl automobile decals and stickers are mostly utilized for branding and personalization in business. The best thing about this kind of product is that every aspect of it, from production to design, can be completely customized.
Using custom bumper stickers as a branding tool is not a new concept. They've been around for a long time. However, before there were bumper stickers or bumpers, people used their horses and buggies to advertise! The concept of employing your car or other forms of transportation as an advertisement space has gained popularity in the last decade.
Custom sticker design can be tricky. You want to be creative, but you also want to make sure your message is clear and concise. Here are some tips for making your custom vinyl sticker design stand out from the rest.
 What makes a bumper sticker stand out?
Most people have strong visual memories. This means that if someone sees an inventive and imaginative advertisement, it will be ingrained in their brain. The person also recalls the establishment or the firm running the advertising campaign. The following advice will not only assist you in creating wonderful and eye-catching bumper stickers, but it will also assist you in spreading the word about your company.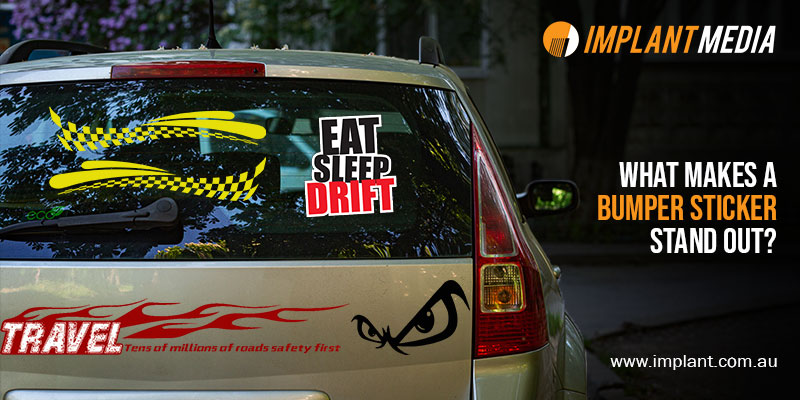 Simple Messaging
Keep your message short if you intend to include one on your sticker, experts advise. You don't want the readers to become anxious while attempting to decipher the message's deeper significance. Stay away from lengthy texts on your sticker. Be succinct because consumers will spend very little time reading the message on your sticker.
Generate Curiosity with Clickbait
People are constantly interested in the conclusion of any tale or message. Therefore, avoid making your sticker's full message clear. Hook the readers with a question. Encourage your potential customers' curiosity. Even a brief message on your sticker can entice visitors to visit your website or physical location to learn more about the goods and services you offer.
Experiment with shapes
The bumper stickers typically have a rectangular shape. Try something unique from what other people are doing. Be imaginative. Consider designing a distinctive shape for your stickers. Yes, you might have to spend a little bit more, but it's worth it. A sticker that is scaled and shaped differently from the others is more likely to stand out. Of course, you should only do this if it is appropriate given the nature of your company.
Make it readable
This is one of the most crucial pieces of advice in sticker printing. Your stickers' fonts should be large enough, and the headline should take up most of the sticker's surface area. To make the message easier to read, use both lowercase and capital letters. Fonts like Arial, Impact, Interstate, etc. are available for use.
Bright, Eye-catching Colours
Bright colors are a good choice if you want your bumper sticker to be seen from a distance. Use two hues that stand out from each other. Color combinations like black and yellow, royal blue and white, and others are available.
Don't Cut Back on Quality
Although it may sound cliche, buying inexpensive bumper stickers may end up costing you more in the long run. To survive adverse weather and climatic conditions, bumper stickers are typically composed of sturdy vinyl materials.
However, the majority of the inexpensive bumper stickers on the market do not make use of sturdy vinyl materials. These bumper stickers might eventually fade or wear out.
If Nothing, Make Them Laugh
When possible, utilize humor! A witty phrase will always catch people's attention and help them remember you.
Add Images/ Logos
While using logos to increase brand recall, remember to not go overboard when using graphics and photos to enhance your bumper sticker design. To avoid confusing viewers, it is best to keep your sticker as simple as possible. Additionally, make sure that no text is blocked by the visuals.
Time to print your custom bumper stickers!
Bumper stickers are a great way to personalize a company vehicle or turn cars into mobile billboards. To get the most out of bumper stickers, you must adhere to the best practices. After reading this guide, we hope you have a better understanding of what to do and what not to do while bumper sticker printing and design.
For every business, bumper stickers are a low-cost but highly effective marketing strategy. At Implant Media, we are masters of delivering high-quality and affordably priced stickers with great turnaround times. We assist you in making your imaginative sticker ideas a reality. We come with years of experience and offer a ton of variety.
Want us to help with your next sticker project?