This article explains how to transfer Thunderbird mail to Outlook. The solutions in this article apply to Outlook 2019, as well as Outlook 2016, 2013, 2010, 2007, and 2003. Continue to read the post and know the process of transferring emails from the Thunderbird mailbox to the Outlook interface.
The release of Outlook fueled the already raging email migration from other email programmes to Microsoft Outlook. Exporting Thunderbird emails to Outlook 2019 is one of them. Thunderbird users have more reasons than ever to migrate to Microsoft Outlook 2019 because of new and improved features. Improved security, easier sorting, a more focused inbox, and much more are all available.
Outlook is still favoured for commercial needs, despite the fact that both of these email clients are among the best available. Outlook is certainly turning heads among Mozilla Thunderbird users, thanks to its expanded range of features.
A quick summary:
Mozilla Thunderbird is an open-source email client that stores all of its messages and attachments as MBOX files (without the extension). Outlook is a Microsoft email client that is part of the Microsoft Office suite. Emails, attachments, contacts, calendars, and other mailbox contents are stored in PST format. In order to accewss Thunderbird emails into Outlook, you can first export MBOX to PST and then use the data file in the Outlook interface.
Best Way to Move Thunderbird Emails to Outlook?
This section includes a number of Thunderbird email conversion procedures that have proven to be effective over the years. We'll go over each of them individually.
Keep in mind, however, that each strategy necessitates a reciprocal exchange. Some may necessitate your time and effort, while others will require your financial contributions. Then there are some who demand that data integrity be compromised. It is completely dependent on the needs of the consumers in question.
Method 1: Transfer Thunderbird Email to Outlook via IMAP
This step needs you to set up Thunderbird and Outlook using a webmail account (such as Gmail). The steps are as follows for people who don't know how to:
I. Enable IMAP settings in Gmail as the first step:
If you don't already have a Gmail account, make one.
Go to Settings > POP/IMAP Forwarding after you've logged in.
Select the radio option for Enable IMAP.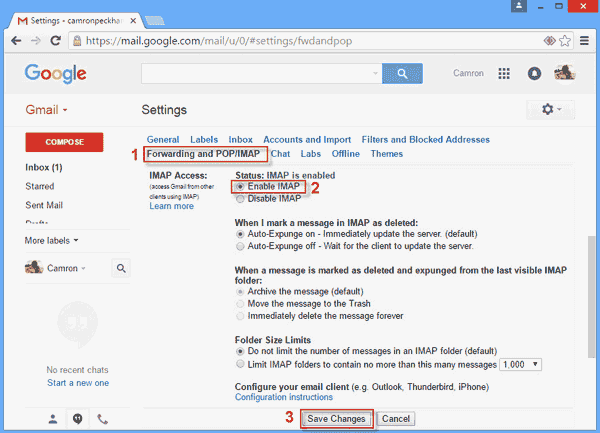 II. After that, we launch the Thunderbird application, which contains all of the emails that need to be transferred.
Select Account Settings from the Tools menu.
Choose Add Mail account from the Account Actions dropdown menu.
Fill in your Gmail credentials in the window and click Continue Here. Select IMAP from the drop-down menu and click Done. The account is going to be added.
Now, under that Gmail account, create a new folder. It should be given a name that reflects this.
Simply drag and drop all of your Thunderbird emails into this new Outlook folder.
To confirm that all of your data is safely synchronised, log into your Gmail account using a web browser.
III. Finally, with Microsoft Outlook, set up the same Gmail account.
Go to File > Account Settings > Account Settings > New to accomplish this.
Enter your Gmail credentials and click the Connect button to complete the process.
Now that the account is set up, you may use Gmail to access Thunderbird emails from Outlook.
Method 2: Using the Drag and Drop method, export Thunderbird emails to Outlook.
In this method, we will first export Thunderbird emails to EML format. Then we'll import EML files into Outlook. This method is useful for smaller mailboxes.
Step 1: Export Thunderbird emails to EML.
Launch Mozilla Thunderbird
Choose the mailbox folder
Choose which emails you want to export. If you want to select all emails, press Ctrl+A. Right-click on the
selected email and select Save. As an alternative,
Choose the location where you want to save the EML files.
To begin the export process, click on the Save button.
Step 2: Import EML files into Outlook
Start Microsoft Outlook.
Choose a mailbox.
Right-click the selected mailbox and select the New Folder option.
Right-click on the selected email and select the Save As option.
Give the folder a name and then click on it.
Navigate to EML Folder, select EML files, and begin dragging and dropping them into the folder.
This method is simple, but it is only useful for a small mailbox. When importing a large mailbox, the Email client freezes. If you want to perform this migration quickly, you can use a third-party Advik MBOX to PST Converter software. You can quickly convert Thunderbird emails to Outlook PST with the help of this tool. After that, you can open PST files in Outlook.
Expert Tool Used to Transfer Thunderbird Mails to Outlook
We will use MBOX Converter in this method. It is a powerful tool that offers the most effective method for converting Thunderbird to PST format. You can also use this tool to convert and export Thunderbird emails to EML, MSG, HTML, and RTF formats. Follow the steps below to export Thunderbird to Outlook.
Other useful features
Convert Thunderbird to PST, EML, HTML, RTF, MSG, and other file formats.
Create a quick preview mode within the software window.
Keep the original folder hierarchy.
Migrate Thunderbird to Office 365 and Live Exchange Server.
Support for over 20 MBOX email clients.
MBOX, MBX, and MBS file formats are all supported.
Free Thunderbird to Outlook conversion for the first 20 items.
All versions of Windows, including Windows 10, are supported.
To sum up:
The article has made us aware that the manual method to transfer Thunderbird Mail to Outlook is not a reliable option. Manual methods have limitations, whereas a professional third-party tool facilitates many user-friendly features. The software makes it simple and precise to export Thunderbird to Outlook. To test its functionality, a demo/trial version of the software is also available, which allows the processing of the first 50 items per folder.
Related Article: Read Gmail Emails in Outlook